Cadex Defence CDX-50 TREMOR
The Cadex Defence CDX-50 TREMOR Series includes all of the features required by the most demanding extreme long-range shooters. 
The CDX- 50 TREMOR is a 50 caliber Precision rifle built to Military Spec. The rifle is capable of delivering a huge payload accurately while maintaining very manageable recoil. The CDX-50 is a lightweight bolt action rifle that brings new technology to the 50 BMG of years gone by. This is the ultimate extreme long-range rifle.
All Cadex rifles come in the Hybrid Grey/Black Cerakote as standard. However, we can arrange for your rifle to be Cerakoted in a colour scheme of your choice.
Muzzle Brake Ready
Ready to accommodate a muzzle brake or suppressor. (Muzzle brake included)

Cadex DX2 Evo Trigger
The Cadex DX2 Evo trigger is a Double Stage Trigger capable of being rapidly converted into Single Stage. Its pull weight can be easily adjusted between 1.5 and 2.5 lbs. If you haven't figured out if you prefer a Single Stage or Double Stage Trigger then you can't go wrong with the DX2 Evo.

Bartlein Barrel
In order for Cadex to offer the best extreme long-range sub-MOA precision rifle, they selected Bartlein Barrels. Teamed with the Cadex-designed 1.680" straight taper, fluted barrel and a threaded muzzle. All Cadex barrels are Mil-Spec Match Grade Single point-cut rifling with an optimized twist rate.​

Fluted Bolt
3 lug bolt with 60-degree bolt throw
Material: Stainless 416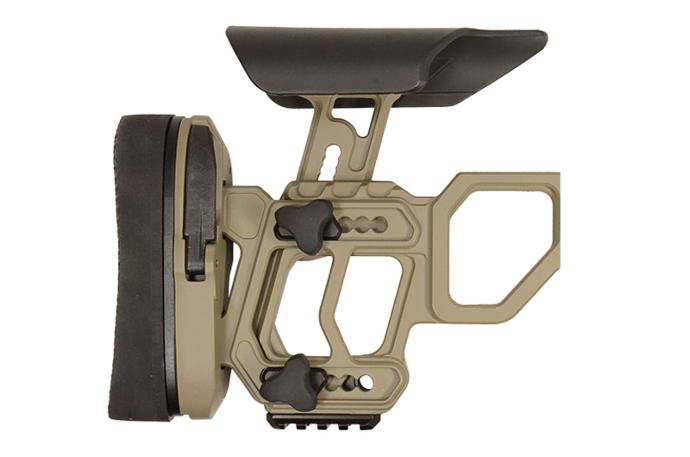 Adjustable Stock
​Tool-free adjustable butt pad, length-of-pull and cheek rest